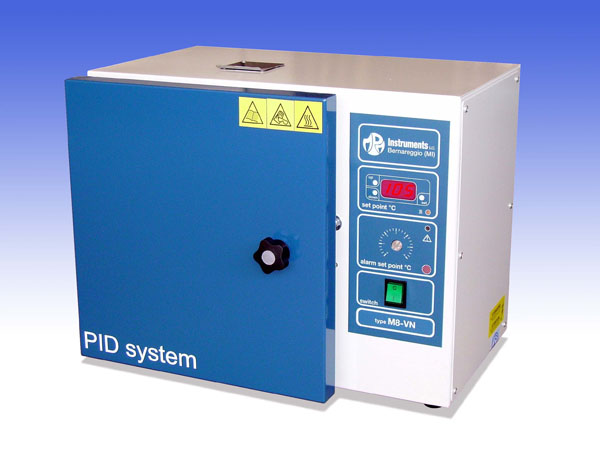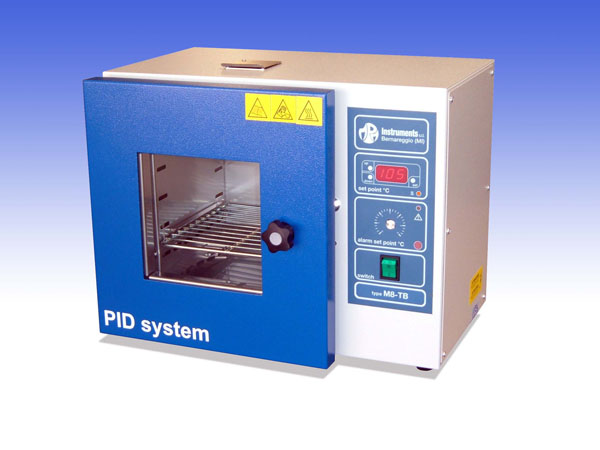 | | |
| --- | --- |
| MODELLO MODEL | COD. |
| M8-VN | 04.5001 |
| M20-VN | 04.5011 |
| M8-TB | 04.5002 |
| M20-TB | 04.5012 |
Accessorio - accessory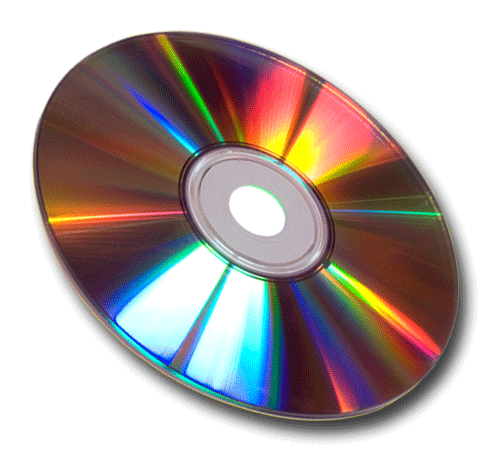 Caratteristiche tecniche
Stufa a convenzione naturale e incubatore ad alta tecnologia adatti a tutte le applicazioni termostatiche di piccola entità.
Struttura esterna in acciaio trattata con vernice epossidica antiacido.
Struttura interna in acciaio inox con angoli arrotondati.
Porta a doppio isolamento dotata di guarnizione in gomma siliconica per garantire un ottima tenuta.
Porta con oblò d' ispezionamento per Mod. M8-TB e M20-TB.
Isolamento termico con fibra minerale naturale.
Regolazione elettronica della temperatura con termoregolatore/programmatore digitale P.I.D., con funzione Autotuning per garantire buona stabilità.
Range di temperatura da +5°C sopra ambiente a +200°C precisione ±1°C a +105°C per Mod. M8-VN e M20-VN.
Range di temperatura da +5°C sopra ambiente a +80°C precisione ±0,5°C a +37°C per Mod. M8-TB e M20-TB.
Precisione display ±0,1 °C (TB), ±1°C (VN).
Per un' ulteriore protezione l'apparecchio è dotato di un termostato di sicurezza regolabile (range da +50°C a +280°C per le VN) con allarme visivo e ripristino manuale.
Ripiani interni antiribaltamento in acciaio regolabili in altezza.
Camino di sfiato con regolazione manuale del flusso.
Elementi riscaldanti non a contatto con la camera interna ma in pre camera per garantire un riscaldamento uniforme.
Interruttore generale bipolare con indicatore luminoso.
Alimentazione 230V-50Hz.
Classe 2, DIN 12880.
Technical specifications
Professional natural air convection oven and incubator for small scale thermostatic applications.
Outer body in steel coated in epoxy anti-acid paint.
Inner sructure in stainless steel with rounded corners.
Double insulation door with silicone seal to prevent heat loss.
Crystal door for easy inspectioning for Mod. M80-TB and M20-TB.
Thermal insulation with mineral fibre.
Digital display P.I.D. Thermostat with programmer, Autotuning function.
Temperature range from +5°C above room temperature to +200°C accurancy to ±1°C to +105°C for Mod. M8-VN and M20-VN.
Temperature range from +5°C above room temperature to +80°C accurancy to ±0,5°C to +37°C for Mod. M8-TB and M20-TB.
Diplay precision ±0,1°C (TB), ±1°C (VN).
For further protection the oven is equipped with visual allarm security thermostat (range from +50°C to +280°C for VN) and manual resetting.
Steel shelves adjustable in height.
Ventilation opening with manual flow control.
Heating elements are not in contact with internal chamber but are in an ante-chamber to guarantee uniform heating.
Illuminated two phase main swithc.
Power supply 230V-50Hz.
2 class, DIN 12880.