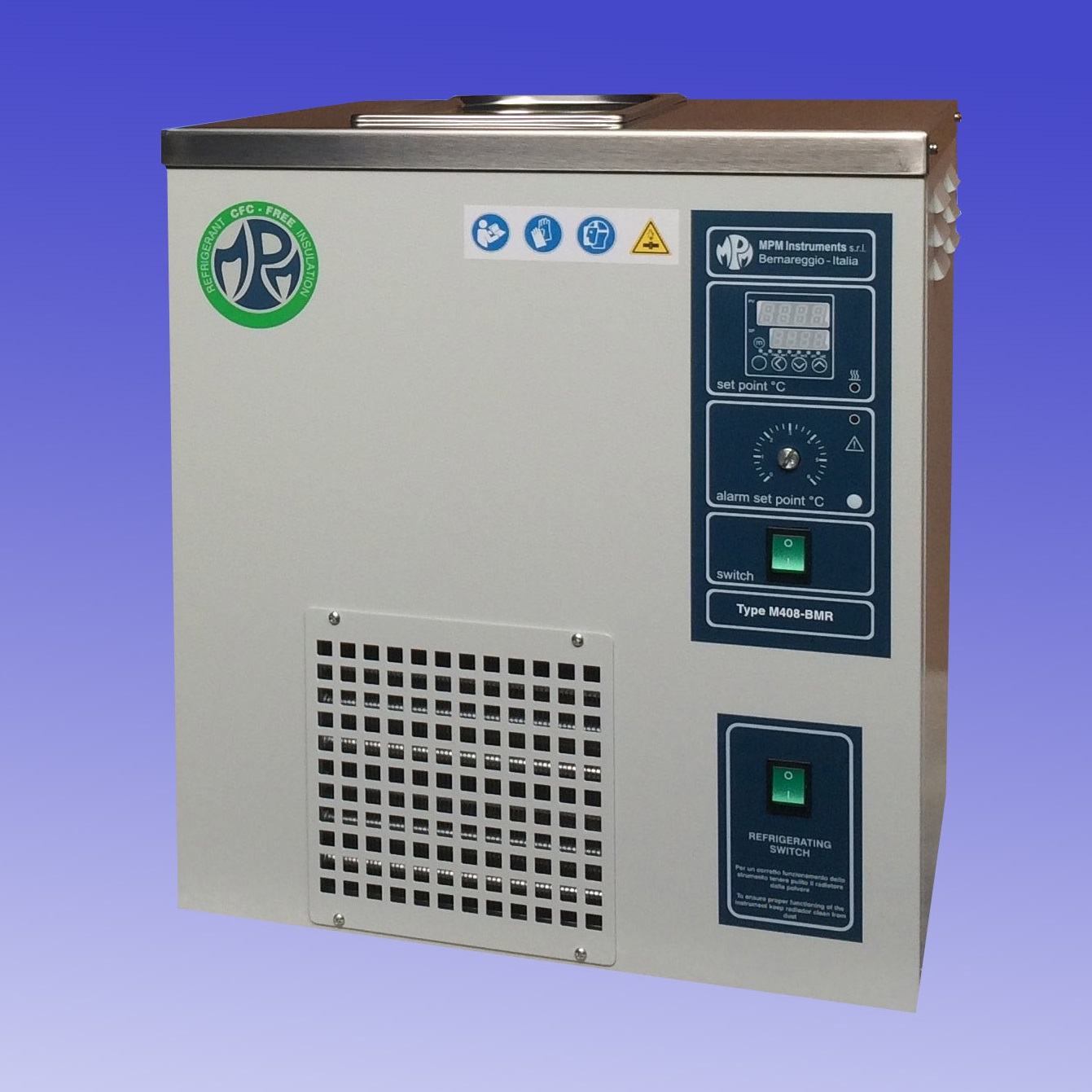 | | |
| --- | --- |
| MODELLO MODEL | COD. |
| M408-BMR | 02.1101 |
| M418-BMR | 02.1102 |
| M428-BMR | 02.1103 |
Caratteristiche tecniche
Bagni termostatici ad alto contenuto tecnologico adatti per tutte le applicazioni termostatiche, tipo test sierologici, batteriologici, in vitro, ecc.
Struttura esterna in acciaio trattata con vernice epossidica antiacido.
Isolamento termico a doppia parete coibentata.
Vasca interna in acciaio inox stampata con bordi arrotondati per agevolarne la pulizia.
Rubinetto di scarico per i modelli da litri 8-18-28.
Coperchio anticondensa in acciaio inox.
Pompa di rilancio per miscelare il fluido abbinata al gruppo frigorifero.
Gruppo frigorifero con gas ecologico.
Regolazione elettronica della temperatura con termoregolatore/programmatore digitale P.I.D. con funzione Autotuning per garantire buona stabilità.
Range di temperatura da +5°C a +99,9°C precisione ±0,5°C a +37°C.
Precisione display ±0,1 °C.
Termostato di sicurezza con allarme visivo e ripristino manuale.
Porta provette (optional).
Per termostatazioni esterne di reattori incamiciate o refrigeranti utilizzare la pompa di rilancio (optional).
Interruttore generale bipolare con indicatore luminoso.
Alimentazione 230V-50Hz.
Classe 2, DIN 12880.
Technical specifications
Professional thermostatic bath ideal for all thermostatic application, serological and bacteriologic tests, slides, ect.
External structure in steel coated in epoxy anti-acid epoxy paint.
Duble wall heat insulation.
Internal chamber in seamless stainless steel with rounded corners for efficient circulation and cleaning and draining tap.
Draining tap for 8-18-28-58 litre models.
Anti condensation lid in stainless steel.
Pump coupled to the refrigerator set to mix the fluid.
Fridge with eclogic gas.
Digital display P.I.D. Thermostat with programmer Autotuning function.
Temperature range from +5°C to +99,9°C accurancy to ±0,5°C to +37°C. Display precision ±0,1
Thermostat with visual allarm and manual resetting.
Test tube racks (optional).
External reactor jacketed for temperature control or cooling use the booster pump (optional).
Illuminated two phase main switch.
Power supply 230V-50Hz.
2 class, DIN 12880.