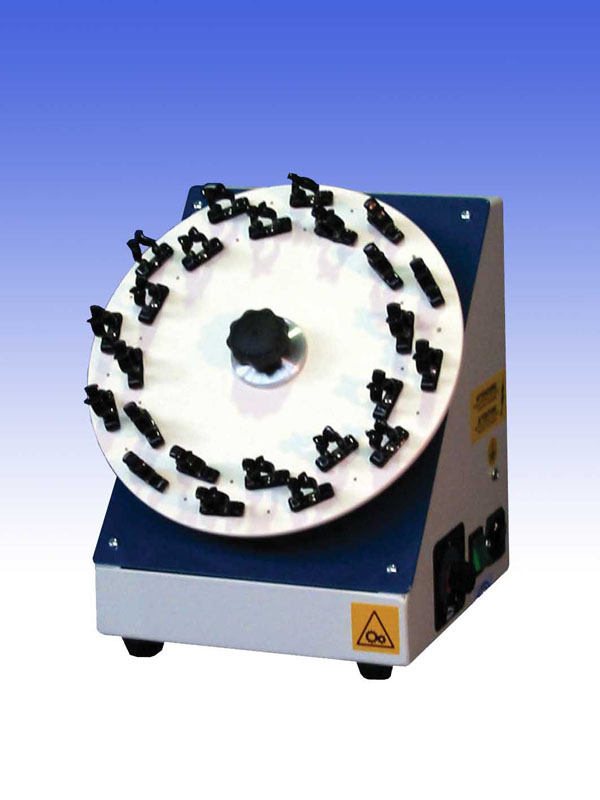 | | | |
| --- | --- | --- |
| Modello - Model | Cod. | |
| M 310-AP | 01.4001 | |
Caratteristiche tecniche
Agitatore con piano rotante adatto per il mantenimento in sospensione di campioni di sangue o preparati in provetta.
Struttura esterna in acciaio con vernice epossidica antiacido.
Supporto in ABS completo di clips per provette 16 x 105 mm.
Variatore elettronico di velocità da 10 a 80 rpm di rotazione.
Dimensioni d' ingombro 260 x 285 x 210 (lxpxh) mm.
Peso 5 Kg.
Interruttore generale bipolare con indicatore luminoso.
Alimentazione 230V-50/60 Hz.
Potenza 100 W

Technical specifications
Rotating flat plate stirrer is ideal maintaining in sospension blood samples or test tube preparations.
External structure casing is epoxy-enameled.
The body in ABS comes complete with test tube clips size 16 x 105 mm..
Rotation speed to 10 at 80 rpm.
Overall dimensions 260 x 285 x 210 (lxpxh) mm.
Weigth 5 Kg.
Illuminated two phase main swithc.
Power supply 230V-50/60 Hz.

Power 100 W.